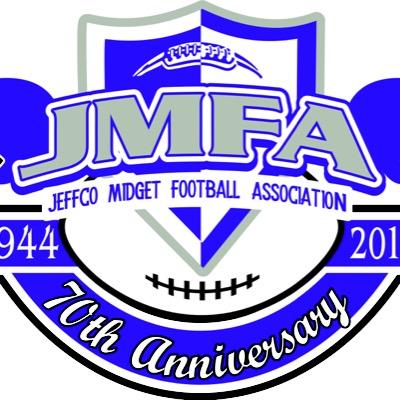 2019 YOUTH TACKLE FOOTBALL
Dakota Ridge Sports Association Teams Play through the Jeffco Youth Football Association.
PRACTICES BEGIN AUGUST 1, 2019
GAMES BEGIN SEPTEMBER 2019
2019 TACKLE FOOTBALL FEES: $235 per player
Includes: 1 Team and 1 Individual Picture, FREE 2 Day Camp, League Fees, Game and Practice Fields, Liability Insurance.
White Game Jersey: $45
Blue Game Jersey: $45
(Fitting Dates for Jerseys TBD)
Players are required to have a White and Blue Game Jersey.
If you are new to DRSA Football, you will be required to purchase both jerseys.
If you played for a DRSA team for the 2018 season, you ARE NOT required to purchase new jerseys. You only need to purchase new jerseys if you require a larger size or want to replace your old ones due to damage.
*****ALL TEAMS WILL BE REQUIRED TO PURCHASE THEIR OWN GAME PANTS. WE WILL NOT BE OFFERING GAME PANTS FOR SALE THIS SEASON*****
_______________________________________
2019 EAGLES SPEED AND AGILITY CAMP
Ron Woitalewicz - Camp Director
Who: All male/female athletes Grades 2 - 12 (2019-20 school year)
When: Monday June 3, 2019 through Wednesday, July 3, 2019
Days: MONDAY'S, WEDNESDAY'S, and FRIDAY'S
Time: Grades 2 - 9 9:00 am to 10:15 am
Grades 10 - 12 10:30 am to 11:30 am
Where: Dakota Ridge High School Football and Soccer Fields
Cost For ONLINE REGISTRATION ONLY: $101 per camper
(includes t-shirt and Popsicle Fridays!!)
________________________________
Ages K through 1 only!
***2ND GRADERS MUST PLAY TACKLE FOOTBALL***
All Football Registration Fees (Including Flag Football) MUST be Paid In Full prior to the first game. If you are having difficulties making your payment, please call the Dakota Ridge Sports Association office at 720-407-4359
.