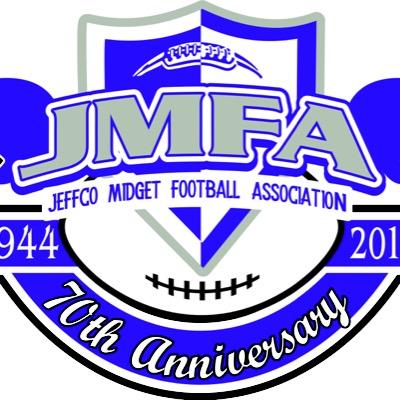 Proud to once again be a part of
Jefferson County Midget Football Association!
REGISTRATION IS OPEN FOR 7TH GRADE ONLY!
Registration is grade based. Please register your player for the grade that they will be in for the 2018-19 school year!
We are proud to have a presence in Jefferson County youth football again! We are the exclusive JMFA organization for the entire south Jefferson County area, for all players in the Dakota Ridge, Chatfield, and Columbine articulation areas. Play against familiar opponents and some excellent high school rivalry schools! We are strong proponents of safety and fair play. Come out and join a team today! Even if you've played in another area for a while and decide that a change is in order, making the switch is not only easy, but 100% ALLOWED!
2018 Youth Football Fee
$225 League Fee
$45 White Jersey***
$45 Blue Jersey***
$25 Game Pants***
****ALL PLAYERS MUST HAVE A WHITE JERSEY, BLUE JERSEY, AND REQUIRED GAME PANTS.....NO EXCEPTIONS.****
If you played through Dakota Ridge Sports Association last season and purchased a white and blue jersey and the required game pants, you do not need to purchase a new uniform if the uniform from last season still fits. You have the option to purchase nothing, or just the pieces that you will need.